Futurewell is a Sustainability meets wellness summit
STEMPLE CREEK RANCH, CALIFORNIA
September 6th, 2019
The Mission
Futurewell is a summit designed to address the synergy between human and planetary health. We will offer a full day of learning and self-care opportunities centered around regenerative practices. Our globally recognized speakers and panel discussions will offer a diverse perspective on solutions for a vital future.
Come learn, move, nourish, participate, connect, and collaborate to become part of the solutions for change.
FUTUREWELL SUMMIT 2019
Join us for a fully immersive and elevated experience hosted on Stemple Creek Ranch, a working cattle ranch that embodies the future of regenerative, organic farming, nestled among the rolling hills of West Marin. This one-day educational summit is designed for 300 high vibe and conscious attendees. We are calling on knowledge seekers, wellness enthusiasts, health care practitioners, entrepreneurs, innovators, influencers, non-profit organizations, farmers + ranchers, and sustainable capital investors to collaborate for the future.
Speakers
Bringing together the game changers and innovators in all areas of health, agriculture, mindfulness, and the healing arts, for a day of inspiration and self-enrichment
Mindfulness and Sustainability
Food and Developmental Health
Regenerative Agriculture for Human Health
Movement + Music Presenters
Healing Arts and Clinical Presenters
Schedule
September 6
8-10:30am Registration & Breakfast by Navitas Organics
9:00am The Class by Taryn Toomey with Natalie Kuhn
10:00am Welcome + Opening Remarks, Meg Adelman & Lily Riesenfeld
10:15am Meditation by Dr. Sheila Patel, Chopra Global
10:30am Soil Workshop by Finian Makepeace, Kiss the Ground
11:00am Regenerative Agriculture For Human Health: Finian Makepeace, Loren Poncia, Jim Jensen, Rebecca Burgess, Dr. Zach Bush
11:45am Food Is Medicine: Dr. Hemalee Patel, Dr. Tiffany Lester, Barbara Sattler RN, DrPH, FAAN, Rebecca Katz, Neka Pasquale M.S., L.Ac
12:30 pm Lunch Break + Fireside Chats + Community Acupuncture + Herbal Consultations + Soil Composting Workshop
2:00pm The Class Relieve Moving Meditation by Natalie Kuhn
2:30pm Food and Developmental Health: Jennifer Siebel Newsom, Alice Waters, Dr. Regina Benjamin, Anna Lappé, Andy Naja-Riese, MSPH
3:15pm Embodying The Health Archetype: Daniel Pardi, Phd
3:30pm Mindfulness and Sustainability: Daniel Pardi, Phd, Dr. Daniel Siegel, Shauna Shapiro, Phd, Dr. Sheila Patel
4:15pm Keynote - Path To A Vital Future: Dr. Zach Bush and Paul Hawken
5:30pm Yoga with Anna Hughes accompanied by music with Kevin Paris
5:30-7pm Cocktails & Connections by Rock Juice and Cowgirl Creamery
7pm "Soil-to-Plate" Dinner curated by Alice Waters
The Experience
Futurewell aims to disrupt the standard conference experience. Think lush green pastures, stunning views, and lux retreat vibes at every turn. Expect a fusion of globally recognized speakers in panel style discussions with breaks that offer incredible food, fitness, and lasting connection.
INCLUDED IN GENERAL ADMISSION
Start the day right with a superfood breakfast by Navitas Organics

Keep your brain sharp and energy up all day with an adaptogenic tea and latte bar by Traditional Medicinals and Navitas Organics

Join Urban Remedy for plant based spread for lunch

A guided meditation with Dr. Sheila Patel of the Chopra Center

Recharge with community acupuncture by Acupop

Discover the healing properties of your customized herbal blend by Five Flavors Herbs
Enhancements for a retreat inspired experience
One-day add-ons
Fitness Pass
Only available with the purchase of General Admission:
A morning session of The Class by Taryn Toomey with Natalie Kuhn

Sunset yoga with Anna Hughes and music by Kevin Paris
SOLD OUT
Soil-To-Table Dinner
Now curated by Alice Waters!
Only available with the purchase of General Admission:
Enjoy a beautiful tasting course menu with food curated by local regenerative organic farms
SOLD OUT
Cocktails + Connections
Only Available with the purchase of General Admission:
Stay a little longer to unwind with a glass of natural wine sponsored by Rock Juice paired with a beautiful local organic cheese spread by Cowgirl Creamery.
Stay a little longer and glamp with Shelter Co on September 6-7
Evening fireside music followed by a bedtime sound bath

Breakfast and snacks by Navitas Organics

Morning activities include Yoga by Anna Hughes accompanied by music from Kevin Paris, or a guided ranch hike with Loren Poncia, owner of Stemple Creek Ranch
Book your tent reservation directly with Shelter Co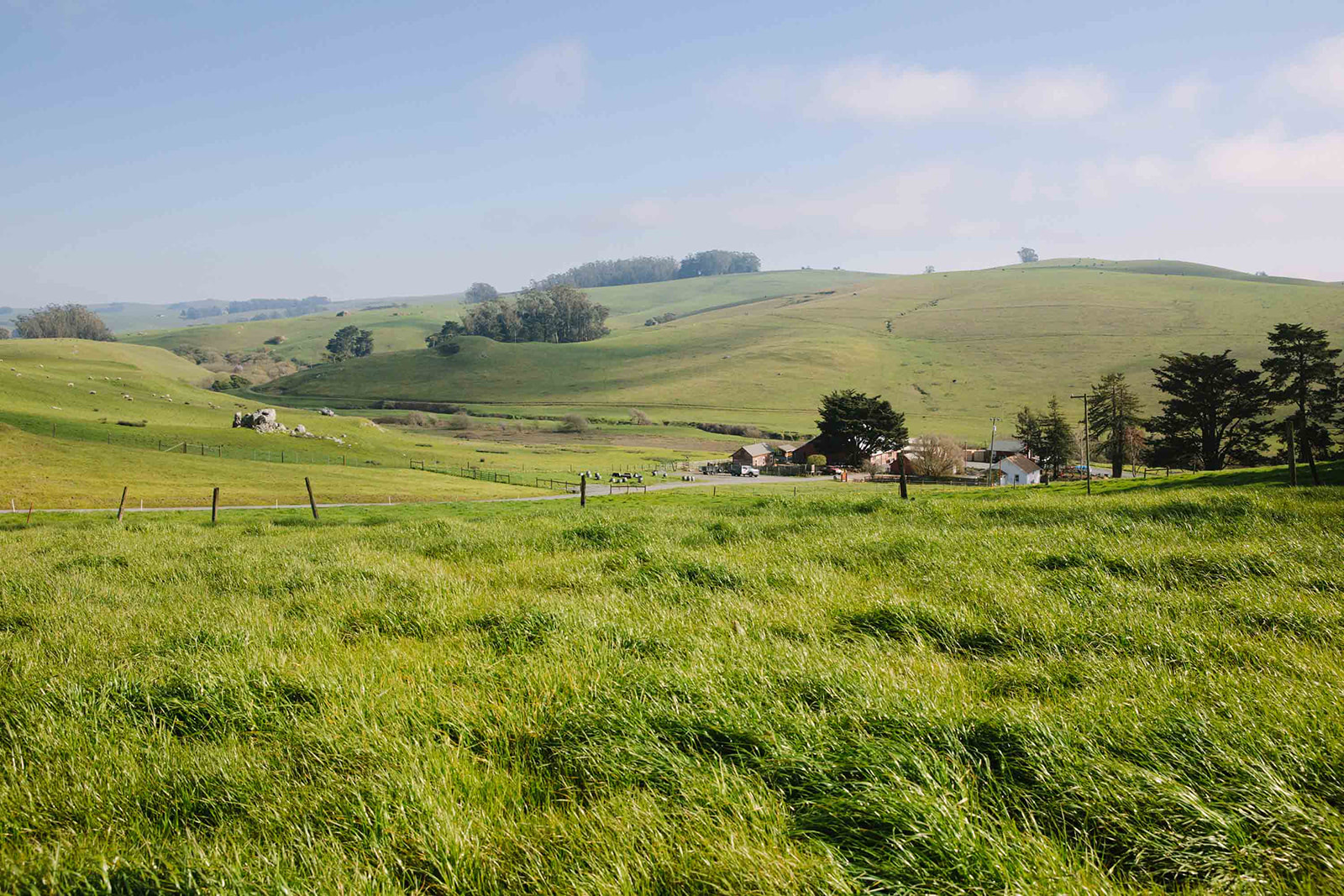 Sponsors & Supporting Organizations
Is Futurewell the right summit for me?
Are you a knowledge seeking individual interested in health and wellness? Do you love being close to nature? Then the answer is yes! While subject matter covers everything from soil health to mindfulness, the dialogue is geared toward consumers. We aim to bring together a diverse group of healthcare professionals, ranchers, wellness industry leaders, conscious consumers, investors, innovators, stake-holders, influencers, and entrepreneurs to raise consciousness and create change. If you want to add movement into your learning experience you have the option to purchase a fitness pass for $95 to add yoga and/or or The Class by Taryn Toomey with Natalie Kuhn. If you are interested in dinner, you have the option of purchasing a beautiful "Soil-To-Plate" dinner for an additional $150. You can customize your experience to suit your unique interests.
How Do I Get to Stemple Creek?
Stemple Creek Ranch, 900 Burbank Ln, Tomales, CA 94971

From north:
Take US-101 S. Use the right lane to take exit 481 for Gravenstein Hwy/CA-116 W toward Cotati. Turn right onto CA-116 W/Gravenstein Hwy. Turn left onto Stony Point Rd. Turn right onto Mecham Rd. Turn right onto Pepper Rd. Turn right onto Bodega Ave. Continue onto Valley Ford Rd. Continue onto Fallon-Two Rock Rd. Turn left onto Burbank Ln
From South:
Take 101 N. To Exit 476 to Penngrove.Use the left 2 lanes to turn left onto Old Redwood Hwy N/Redwood Hwy N. Continue straight onto Petaluma Blvd N. Turn right after Denny's (on the left). Turn left onto Pepper Rd.Turn right onto Bodega Ave. Continue onto Valley Ford Rd. Turn left onto Fallon Rd.Continue onto Fallon-Two Rock Rd. Turn left onto Burbank Ln.
Will the event be outside or inside?
The one day conference will be held inside the historic barn by day as will the "Soil-to-Plate" Dinner at day's end. Fitness classes will be held outside. Expect to be both inside and outside throughout the program.
CE Information for Healthcare Professionals
Futurewell is offering 5 Category 2 CEU's pending approval for California Licensed Acupuncturists. CEU Provider 538 Paeonia Integrative Medicine.
We can now confirm that 5 CE's will be available for California Registered Nurses. The Continuing Education Provider has been approved by the California Board of Registered Nurses, Provider Number 16546 - The Alliance of Nurses for Healthy Environments, 2901 Shepherd St. Mount Rainier, MD 20712
In order to receive the CE certificate, a sign-in sheet will be available at registration. After the conference, a short post-test will be emailed to you. After completion of the post-test, your CE certificate will be sent to you.
*REFUND POLICY - No refunds will be offered after purchase of tickets to Futurewell Summit
What is the weather like in Tomales that time of year?
Average weather throughout September in Tomales and nearby Bodega Bay California, United States. Daily high temperatures are around 74°F, rarely falling below 65°F or exceeding 84°F. The highest daily average high temperature is 75°F on September 11.
What should I wear?
Attendees should understand that the event is being hosted on a working cattle ranch and inherent risks apply such as uneven ground, variable terrain - grass, rock etc. Comfortable, casual attire is appropriate for this event including fitness clothes, jeans and layers to stay comfortable as the sun goes down. Western-ware with boots and cowboy hats are always fun!. The most important part of your attire for the day is durable, comfortable shoes - boots, sneakers or wellies. We discourage open toes.
Will there be showers on-site for glampers or for after fitness activities?
Showering facilities will not be on hand for the majority of attendees. Bathroom facilities are portable bathrooms. Glampers will have a designated area for freshening up with supplies on hand such as cleansing wipes, hair dryers etc.
Will I be able to park at the event?
Yes, there will be plenty of parking available for the event at no additional charge.
What hotels are in the area if I want to stay overnight?
Hotel Petaluma - 20 Min from Stemple Creek
Guests of Hotel Petaluma are within a leisurely stroll from local art and culture. Downtown Petaluma offers galleries, restaurants, boutique shops, artisan breweries, theaters, as well as premium outlet shopping. Within Sonoma and Napa Counties, guests of Hotel Petaluma can explore over 400 wineries, or venture to Point Reyes National Seashore. If you seek the quiet splendor of nature, Petaluma offers visitors a multitude of parks and trails.
205 Kentucky Street, Petaluma, California 94952 USA
www.hotelpetaluma.com
Tel: (707) 559-3393
Reservations: (707) 559-3393
reservations@hotelpetaluma.com

Nick's Cove - 11 minutes from Stemple Creek
Nestled in one of the serene, sheltered coves of Tomales Bay, the cottages at Nick's Cove combine rustic charm with luxurious comfort. Each unique room is an elegant, cozy hideaway, beautifully appointed with plush down comforters, woodburning stove and bathrooms equipped with heated ceramic tile floors. The picturesque setting and tranquil waterside evenings make it the perfect place to unwind and refresh yourself.
23240 CA-1, Marshall, CA 94940
Tel: 866-63-NICKS · 415-663-1033
www.nickscove.com
Video of Nick's Cove

Dillon Beach Resort - 13 Minutes from Stemple Creek
https://www.dillonbeachresort.com
1 Beach Ave, Dillon Beach, CA 94929
Tel: (707) 878-3030
The Inn at the Tides - 18 minutes from Stemple Creek
www.innatthetides.com
8805, 800 Bodega Ave, Bodega Bay, CA 94923
Tel: (707) 875-2751